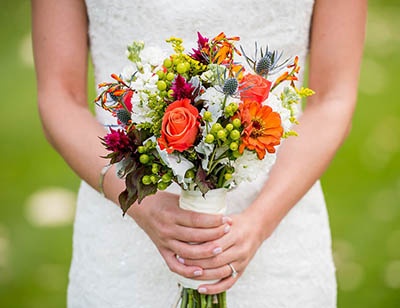 Even though it's only the middle of February, spring seems like it's already in the air. We've even got neighbors whose daffodils are blooming! For those of you planning a spring wedding in South Carolina, you may already be knee deep in those final details, or you may still be working on the big picture and trusting everything to come together in the end. We'd like to take a moment to suggest that you consider renting golf carts for your big day, and we'd like to show you five reasons golf cart rentals are essential for South Carolina's wedding season.
1. Keep Your Dress and Tux Photo-Ready All Day Long
Odds are good that your dress has been meticulously chosen to fit your perfect vision for this important day — so don't spend your time worrying about getting dirt or mud on your white hem or on the bridesmaids' dresses and having to hide it all in photos!
Renting a golf cart lets the wedding party head around from spot to spot without risking water stains or mud spots ruining that picture-perfect "first look" moment.
2. Fewer Trips While You're Setting Up
While many wedding venues help with setup, there are some, especially in more rural settings, where the wedding party and their families are responsible for most of the setup and takedown of the day themselves. You might find yourself going back and forth, back and forth, lugging box after box, when you should be enjoying that rehearsal dinner!
Golf carts are a great help when it comes to setting up. Just pack what you need on the cart and you'll be able to cut down the amount of trips everyone has to make! Finish up in ten minutes what might otherwise take more than half an hour, then head to the rehearsal venue with plenty of time to talk with friends and family!
3. Easy to Customize To Your Colors and Theme
Okay, so we might not be able to do a customized paint job for rental golf carts, but that doesn't mean they're not still easy to customize to fit your wedding theme! Streamers, balloons, and flowers are inexpensive additions that can ensure your rental golf cart matches your colors and theme with minimal effort and expense.
Decorating your golf cart has one more added benefit, too: it turns the golf cart into a photo opportunity! Have your photographer capture a few shots of you and your new spouse riding around after the ceremony, with that 'Just Married' banner hanging off the back.
4. Cost-Effective (Especially in Large Venues)
We've seen wedding after wedding with a limo or a shuttle bus rented to ferry around the wedding party and older guests, especially down in Charleston where it seems like everything you do is just a short hop and a skip away. Rather than spend and spend on a shuttle or limo, why not try renting golf carts?
Compared to the former options, golf cart rentals are cost-effective and easier to use for multiple sets of guests as needed. Once the wedding party has made it to the location, it's easy to send just one golf cart or two back to pick up those guests who need a little help getting from one place to the next.
Speaking of...
5. A Benefit for Guests Who Need Some Help Getting Around
Rented golf carts are the perfect option for those with family members who aren't comfortable walking long distances or on uneven ground. Especially for those beach, ranch, or golf course weddings that take place on uneven surfaces like grass or sand, rented golf carts will help guests who might otherwise have to fight to keep their balance to make it from one spot to the next in comfort and style.
Whether you use rented golf carts to help out older, disabled, very young guests, or just anyone who needs a bit of help getting from ceremony to reception spot, you'll be able to rely on our golf carts being delivered to your location of choice with time to spare.
Planning Your Spring or Summer Wedding in South Carolina?
Make sure you add "schedule golf cart rentals from Go With Garrett's" to your wedding to-do list! Our rentals are there on time, delivered by us, to make sure you don't have to worry about a thing. Make the most of your big day and give us a call or contact us online to schedule your rentals today!