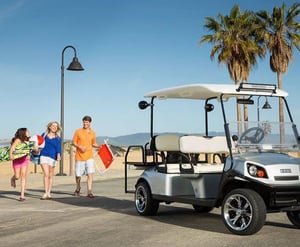 Summer may officially be coming to an end soon, but in South Carolina, the humidity and heat is here to stay for at least another month or more.
With extreme outdoor temperatures during the day, you may be wondering if there's anything special you need to do to care for your E-Z-GO golf cart in the heat.
The short answer? Yes! Here are a few things you should be doing to care for your golf cart and extend its life throughout the many hot months in the South.
1. Keep an Eye on Your Tires
Regardless of the time of year (but especially in the summer), it's important to keep the air pressure in your tires at the factory recommended level. This level will be different depending on the tires you have on your golf cart so be sure to check your owner's manual or with your local dealer. Low tire pressure in extreme heat can be a recipe for disaster. If you're out driving on the street or in your neighborhood and a tire blows, it can be very dangerous for you and the people around you.
Make a habit of checking your tire pressure once a month and, depending on the wear and tear, replace them completely when needed.
2. Take Care of Your Golf Cart Battery
Whether you own a gas or an electric golf cart, caring for your battery is one of the single most important things you can do to prolong the life of your cart. The summer heat can evaporate the water in your batteries more quickly than in milder months of the year, so it's important to keep an eye on the water level.
If you need to fill the water level in your battery up, make sure the battery is charged first. Use distilled water, as water from other sources can contain minerals that are bad for the health of your battery.
3. Protect the Paint
While the idea of your golf cart getting a sunburn may sound silly, too much direct sunlight on your golf carts paint can actually cause it to shrivel and fade. You've probably seen some older vehicles with eroded paint on the top and hood, that's caused by too much time in the sun. Occasionally washing and waxing your golf cart is a great way to protect the paint. Wash the golf cart to remove any dirt or impurities and then wax it to form a thin protective layer that will keep the sun's rays from damaging the paint. Another thing you can do is store your golf cart in the shade or in a garage when not in use.
Warm whether invites us all to spend time outdoors and have a blast. Make sure your summer isn't ruined by a damaged golf cart by following the tips mentioned above!
If you have any questions about caring for your golf cart or the summer sun and heat has already caused some damage and you need repairs, Garrett's Golf Cars can help! Our experts can provide answers to any golf cart questions you have, and we have a huge variety of parts to make any repairs you need. If you don't have a golf cart yet but you're looking to buy, check out our huge selection of new and pre-owned carts here!