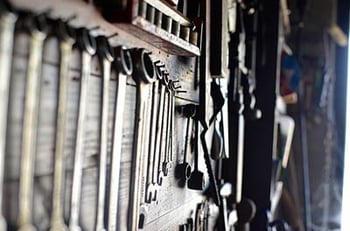 If you're the type to put away your golf cart or ATV for winter storage, there are a few steps you'll need to take to ensure that your battery stays in peak condition, even if you're not heading out on the course or into the woods during the colder months. We've spoken before about winterizing your ATV, but we haven't really taken a close look at caring for your electric golf cart or ATV's battery.
Parking your golf cart in a storage shed or garage and leaving it alone for up to three months will likely end with a golf cart that just won't start come spring.
We'd like to walk you through what steps to take when preparing a golf cart battery for winter storage today.
First Off: The Basics
Before leaving your golf cart, ensure that the battery is clean, fully charged, and has been disconnected from any source of electrical drain. Batteries will continue to self-discharge, even during periods where they are not used or are being stored away. If you don't disconnect your battery's wires, you may find yourself with a golf cart battery that won't start in the spring.
Set the key switch to "OFF". If your golf car is an electric RXV, make sure the 'Run/Tow' switch is set to the 'Run/Storage' position. Remember, if it's left in the 'Tow" position, it will continue to drain the batteries over time. If it's an electric TXT, such as this gorgeous orange E-Z-Go model, you'll want to look for the "Tow/Maintenance/Storage" position. In both vehicles, you'll find the switch you need under the passenger seat.
Check, Re-Check, and Check Again
Make a note in your planner or set an alarm on your phone to remind you about every three weeks to check on the batteries, even when you're not using the golf cart or ATV itself. Golf cart batteries need to be recharged at a minimum of about every 30 days, or as needed. You don't need to have your golf cart constantly plugged in — just head on out there every two to three weeks, check on the charge, and make sure it recharges back to full.