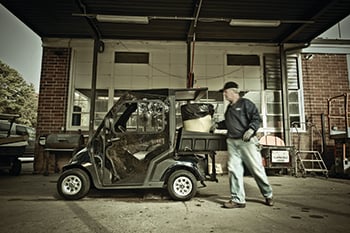 It may seem like a remote possibility, but it's true — golf carts occasionally find themselves the targets of theft. Whether it's a couple of teenagers hoping to head out for a joyride or someone looking to steal an unsecured golf cart in order to make some money on selling it later, you could still wind up filing a police report for the theft and having to hunt down and relocate your personal property.
Preparation is the best defense against theft, so we've put together a few tips on ensuring your specialty vehicle remains secure — at the beach, out in the woods, or at home in your garage.
Solution: Install a Unique Key Switch
Many people believe that golf cart keys are just like car keys, in that there are many different variations that help add some level of security. Unfortunately, that isn't true. Many golf carts come with a sort of 'generic' key system, which could end up a serious vulnerability. One inexpensive security booster involves purchasing and having installed a unique key switch, which will make sure that only you have the key that can start up your E-Z-Go, Bad Boy, or Cushman cart.
Solution: Consider a Key Pad Lock
A little pricier, the keypad lock is even more secure than the unique key switch. It involves a numbered keypad similar to the numbers on your telephone, with a customized 'security code' that unlocks the cart and allows it to be started. Until this code is entered, the golf cart simply will not start.
Solution: A Manual Disconnect Switch
Basically, a manual disconnect switch works by taking apart your golf cart's ability to make the electrical connection that allows it to start up until you remove the switch. These are quick and easy to install, and are often found in out-of-the-way places that would make them hard to find in the dark. Some models even come with space for you to add a padlock, to help you feel even safer.
Solution: Install a Golf Cart Security System
The most elaborate (and expensive) security method on our list, the security system comes with a key fob (think of the lock/unlock key fobs that most vehicles come with these days). Unless the key fob is in hand when the cart is started, it won't start up — and those would-be thieves won't be going anywhere.