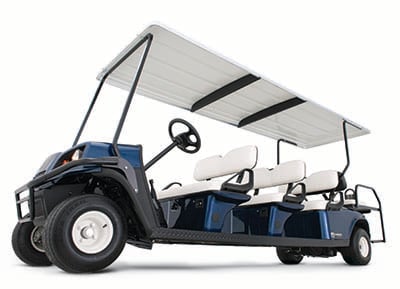 We've spoken before about the ways that Cushman can help out in the agricultural industry, with golf carts designed for hauling feed, seed, and other supplies through uneven off-road terrain.
Did you know that Cushman golf carts also provide excellent personnel transport, street-legal LSVs for maintenance and landscaping needs, utility carts for the hardest jobs, and more?
Cushman Shuttle™ 8
The Cushman Shuttle™ 8 is tailor-made for universities, company headquarters, and other organizations where the design and construction of buildings leaves a lot of ground to cover.
Seating for eight lets you move staff and/or visitors around campus with comfort and speed, with select models even providing extra storage so personnel and gear can come along for the ride.
The Cushman Shuttle™ 8 comes in both gas and electric options, allowing you to choose the cost-effective electric power source or the extra power of a gas-run engine.
You can also choose models that have seating for 2, 4, or 6 when you don't need space for a crowd.
Cushman LSV 800
For city workers focused on the beautification of downtown shopping areas, providing landscaping to public parks or maintenance to public rest areas and other essential tasks, Cushman designed a street-legal low-speed vehicle (or LSV) that will help workers get the job done while ensuring they can move around freely on the roads.
The LSV 800's 48v electric drivetrain can reach road-safe speeds of up to 25 mph. It also comes with standard headlights and taillights that make early mornings and late nights safer, and an 800-lb cargo capacity can haul tools, mulch, and whatever else you need to keep the city streets, trees, and parks looking their best.
Automotive-glass windshields provide extra safety, plus protection from the elements.
Cushman Turf Hauler® 800
The Cushman Turf Hauler® 800 is best for when you need something heavy-duty to get the job done. When we talk about work on the farm or landscaping, the Hauler is usually what comes to mind. With options ranging from 800-lb to the heavier-duty 1200-lb carrying capacity and just two seats, the Hauler models provide the cargo space to really let you pile on the tools and supplies you need.
Don't settle for making multiple trips when the Hauler can get it all done in one.
Choose from gas or electric options depending on your power needs, as well as larger or smaller cargo beds. The Cushman Turf Hauler® 1200, our personal favorite model, even comes with an intelligent dash design that offers extra space to help you keep your favorite tools on-hand when you need them.
Garrett's Has New and Preowned Golf Carts to Suit Every Need
Go With Garrett's Golf Cars and Specialty Vehicles has been providing our customers with new golf carts to suit every need for more than twenty years, as well as quality preowned golf carts, and our three locations throughout South Carolina ensure that no matter where you are, we're on hand to help.
Whether you're looking for something simple to take around the neighborhood or hit the downtown Farmer's Market, you need a heavy-duty ATV to do hard work around the farm, or you're interested in making the most of South Carolina's ATV parks, just let us know!
Find your perfect golf cart or ATV today by giving us a call at (864) 862 7709 for Greenville, (803) 407 2687 for Columbia, (843) 881 8894 for Charleston, or contact us online at any time!