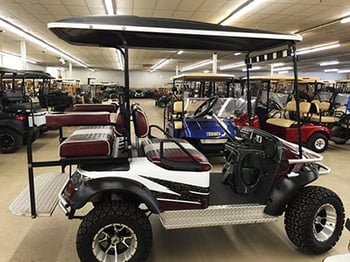 Go With Garrett's in Columbia, SC!
Located at 431 Western Lane in Irmo, SC, we're conveniently located right next to Columbia to meet your golf cart service, sales, and rental needs. We were excited to open up this new location in order to begin helping our friends here in the Midlands find the best prices and customer service in South Carolina!
Whether you're looking for a new or preowned E-Z-Go, Bad Boy (and Bad Boy Off Road), Cushman, or our NEW Tomberlin golf carts, ATVs, or other specialty vehicles, our Columbia location is uniquely situated to meet your needs! We are happy to customize any cart to fit your lifestyle and family (check out this blog on customization we recently published!), so just let us know what you're looking for and we'll do our best to make it happen!
We also provide parts, service, and repair, golf cart rentals for weddings, corporate events, and family events, and have some great financing options available!
We would love to speak with you in person and walk you through how our quality, customer service, and repairs have us head and shoulders over the competition.
You can reach us by phone at (803) 407 2687 or contact us online at any time to learn more!