Golf Cart Rentals in Charleston, SC
Perfect for Weddings, Family Vacations, and More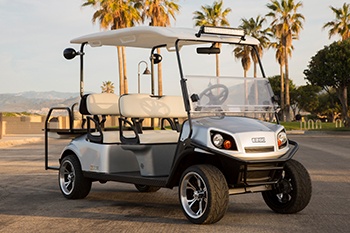 Looking for a golf cart rental near the Holy City for weddings, corporate events, family vacations, or just about any Lowcountry golf cart rental need you can imagine? Garrett's Golf Cars has you covered!
Our Mt. Pleasant location is just a short hop away from the beach, and we're happy to provide golf car rentals for families vacationing on the coast, couples throwing beautiful beach weddings, executives hosting corporate events, and more.
Just scroll down to the form below and let us know how many you're looking for and when you need them. We'll have them ready for you right on time!
We provide pickup and delivery throughout Charleston county, as well as on the Isle of Palms and Sullivan's Island. Give us a call or fill out our rental form for pricing.
When you're looking for golf cart rentals in the Lowcountry, think of Go With Garrett's Specialty Vehicles.
Just remember to keep the following golf cart rental rules in mind. Under South Carolina law, golf carts may not be operated:
On primary highways
More than 4 miles from your residence (or the residence you are staying at, in the case of events or vacations)
After dark (½ hr. after sunset until ½ hr. prior to sunrise)
By an unlicensed driver
On any sidewalk
Ready to get started with your Charleston golf cart rental? Just fill out the form below!