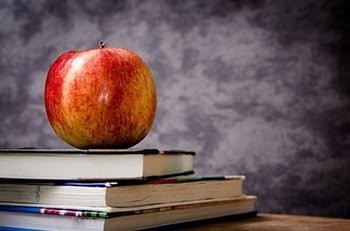 Things get pretty hectic around our home from late July through early August, and there's one big reason why — back to school!
Prepping your kids (and yourself) for getting back into the swing of drop-offs, pick-ups, after-school activities, and all those hours of homework can quickly turn into chaos. We'd like to take time this week to walk you through a few tips we love for keeping the back-to-school hustle and bustle (and your home) organized!
Ease Into the Schedule
It's always a good idea to start shifting over to that upcoming school schedule a few weeks in advance. One tip we've seen involves setting an alarm to get your kids awake a half hour earlier than their usual summertime wakeup. Stick to that time for one week, then the next week move it up after half-hour or so. If you start this out about a month before back-to-school, your children will have an easier time pulling themselves out of bed for that first few days — they'll have already had time to adjust.
Obviously, if your kids are heading back next week or the week after, you don't have a whole month for the plan, but even a few days of adjustment time can help them get on track.
Create One Big Family Calendar
Pick up a whiteboard at an office-supply store. You want one large enough to hang on the wall and to handle lots of written-down appointments. Set up 31 separate spaces into a monthly calendar that can stand in for any month of the year. Label the top with the current month, and use several different colors of dry-erase marker, one for each family member to write down their appointments, practices, games, or due dates for big assignments or permission slips. This way, you can look at any given day (or even a couple of weeks ahead) and know who needs what done when and where. An extra tip: Consider coming up with something like "HP" for "high priority", for things like visits to the doctor or especially serious deadlines that absolutely cannot be missed.
Plan Ahead the Night Before
Rather than succumb to morning chaos, set up a plan for the evening before. Have your children set out their backpacks, fully packed with whatever assignments are due or books and supplies they'll need the next day. Consider prepping breakfast recipes that can be made the night before and just popped into the oven (or eaten cold) while everyone pulls themselves together for the day.
Also, and this may be a tough sell in a house with teenagers, but it's worth discussing them picking their outfits the night before. Try reminding them that every minute in the morning they don't spend worrying about what to wear is an extra minute of sleep they won't miss out on.
Stick to Lights Out — Right From Day One
After a summer of staying up late, having to go to bed at a predetermined time can be a tough adjustment, especially for older teens. It's important to do what you can to ensure your kids abide by some basic bedtime rules. Set a time, such as 10 pm on weeknights, and let them know that by that time, they're expected to be in pajamas, ready for bed, with the lights dimmed if not out completely.
With younger kids, an 8 or 9 pm "lights out" time may get them to sleep a little faster. We can't promise they'll go right to sleep, but at least they'll be totally prepped for it!
For Family Fun, Grab a Golf Cart!
At Go With Garrett's Golf Cars and Specialty Vehicles, we don't just sell golf carts and ATVs — we use them in our own lives, too! Whether it's for running around the neighborhood with the kids, a rental that helps us get around down at the beach, heading out into the great outdoors, or just about any other use you can think of... our great E-Z-Go, Bad Boy, and Cushman options work hard to fit your lifestyle. To learn more about our preowned options or new inventory, give us a call at (864) 862 7709 for Greenville, (803) 407 2687 for Columbia, (843) 881 8894 for Charleston, or contact us online at any time!