Golf Cart Rentals in Greenville, SC
Rent a Golf Cart For Your Next Family or Corporate Event With Garrett's!
Upstate South Carolina has gorgeous views of the Blue Ridge Mountains just about everywhere you go, which makes those mountain getaways and golf course weddings very popular.
Instead of your guests having to walk... and walk... and walk... rent a golf cart! That way, they can get around in comfort and style.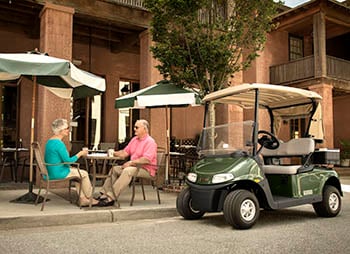 Give us a call or fill out our rental form for pricing.
Out of our original location in Fountain Inn, we provide pickup and delivery service throughout most of Greenville County for a minimal charge. We can work with both small family vacations and large events like weddings or corporate retreats. Our tractor-trailers can transport between 20-30 golf carts apiece, meaning that we can easily accommodate events of any size. We do all the work so you don't have to — you'll receive your golf carts on time and without hassle. Just tell us how many you need, where they need to go, and when you need them. We'll do the rest.
Before you rent, keep in mind that under South Carolina law, golf carts may not be operated:
On primary highways
More than 4 miles from your residence (or the residence you are staying at, in the case of events or vacations)
After dark (½ hr. after sunset until ½ hr. prior to sunrise)
By an unlicensed driver
On any sidewalk
Parents or guardians allowing an unlicensed child to operate a golf cart are subject to a fine in excess of $200. Golf carts being operated in violation of state law are also subject to being towed at owner's expense.
Golf carts are allowed on secondary roads with a posted speed limit of 35 mph or less and can cross primary roads. All state traffic laws must be obeyed and the seating capacity of the golf cart cannot be exceeded.
Reach us by phone at (864) 862-7709 or fill out the form below to get started scheduling your golf cart rental in Greenville.